On October 9th 2019 we came together in Rotterdam for the 2019 edition of the LDE CEL Annual Meeting. The Erasmus University of Rotterdam was our wonderful host for the day!
In this last year CEL has been growing and that was exactly what we wanted to share with our visitors and guests! Our director prof. dr. Marcus Specht opened the meeting with a brief overview of CEL's achievements this last year and by introducing our extended CEL-team. Learn more about our researchers at People of CEL.
After that the floor was given to dr. Bert Bredeweg who spoke about Artificial Intelligence in Education - Learning with Interactive Knowledge Representations.

In a workshop carousel we explored the topics that CEL's research focuses on. Our own CEL researchers and researchers from the LDE Alliance Universities that we collaborate with shared their knowledge on AR/VR, Learning Analytics, Computational Thinking and Self-regulated Learning processes. During the afternoon it was also possible to visit our EdTech Market were innovative applications in the field of education and learning were presented in an interactive setting.
We wrapped up the day with drinks and networking. We hope you had a wonderful time at our meeting and went home inspired and energized!
Take a look at our photo report below and the attached presentation of our keynote and workshops.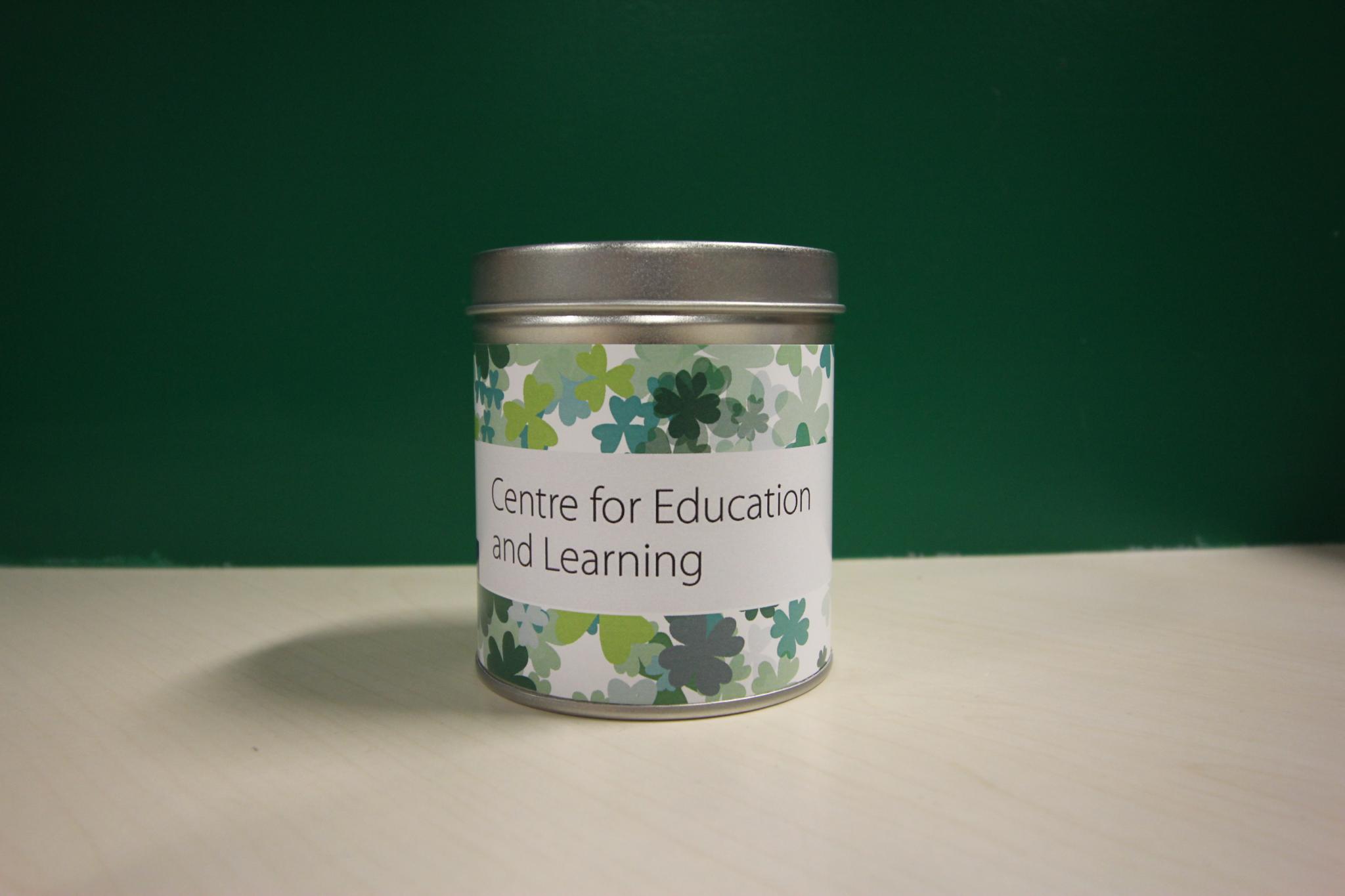 Our director Marcus Specht kicked off our Annual Meeting. Where last year he started his presentation with an image of an empty beach, CEL has now grown and the beach shows our team in action!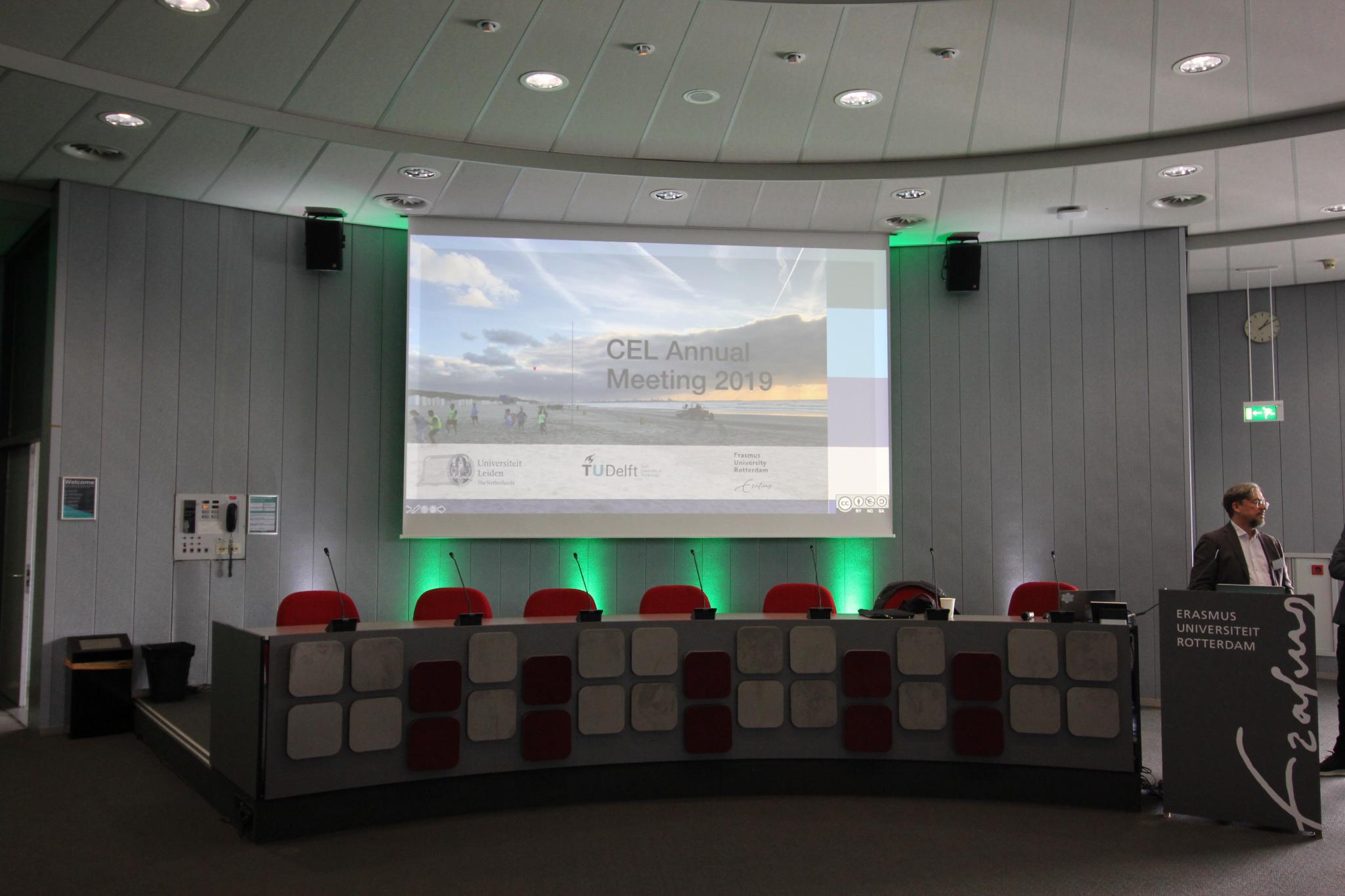 "You learn by creating your own knowledge" said dr. Bert Bredeweg in his keynote.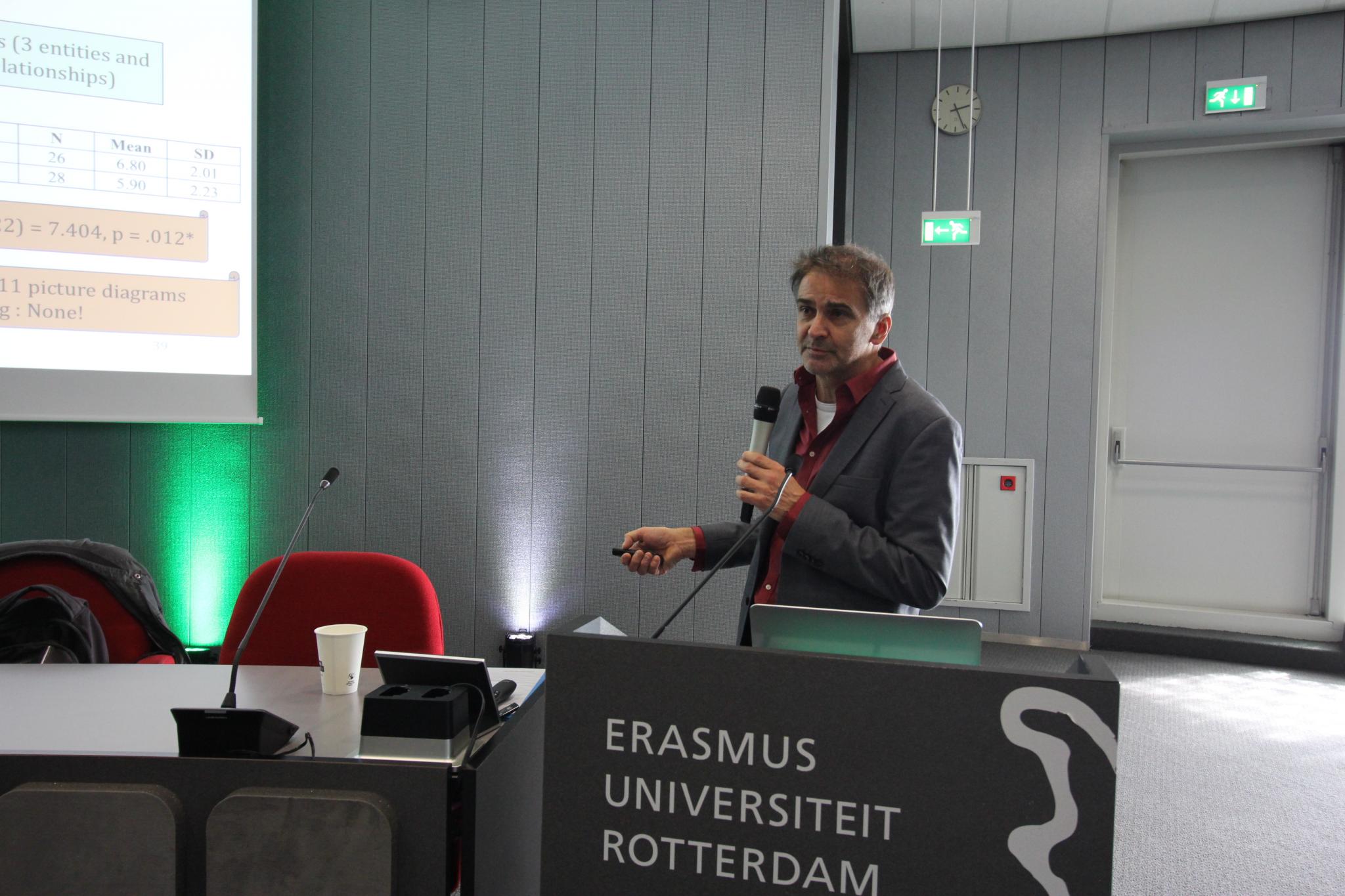 During the coffee break there was time to explore the EdTech market. Various researchers showcased their innovative applications.
The showcased projects were:
Taico Aerts presented the Labrador Project: Labrador is a system for managing student questions/submissions during big lab sessions.  
Manuel Valle Torre presented his project ELAT: ELAT is a simple, browser-based tool to expand Learning Analytics for edX.
Martijn Stellingwerff and Michael Tjia did demos of various AR experiments from the TU Delft Teaching Lab
Matthijs Doets from the EMC showcased Learning Analytics tool Xerte: Xerte is an open source authoring tool for creating interactive e-learning modules and features a basic dashboard. 
Danika Marquis from the TU Delft showed a demo on Digital Skills 
Donna Schipper and Carel Jansen from the Leiden University Centre for Innovation with various demos of their VR projects: The Centre for Innovation at Leiden University is developing virtual and augmented reality applications for education, of which one could be experienced during the Annual meeting. The virtual reality application Emergency Care - Time to Act, aims to train future doctors in protocol based decision making when patients are in life-threatening situations.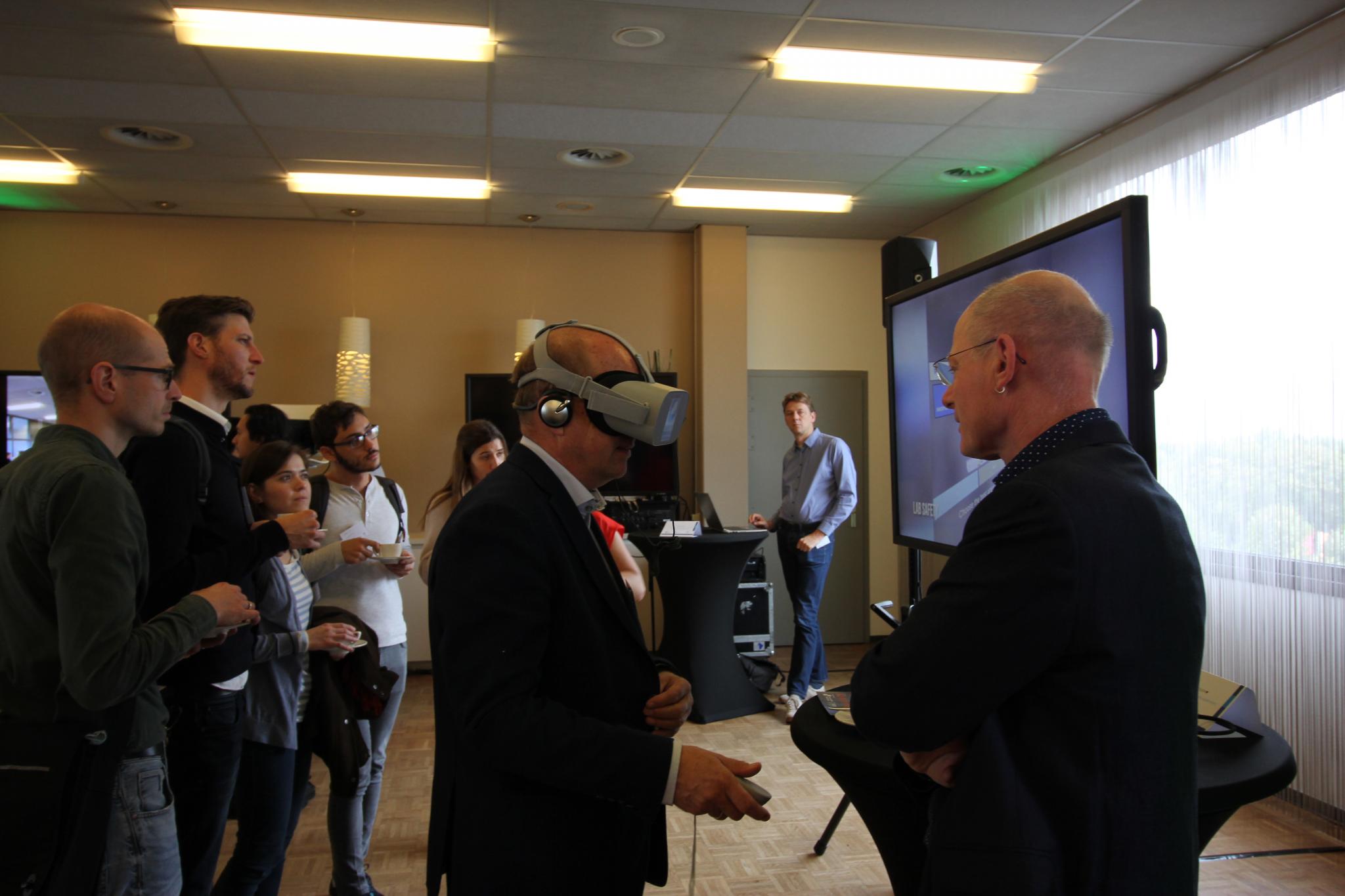 A little glimpse into the EdTech Info market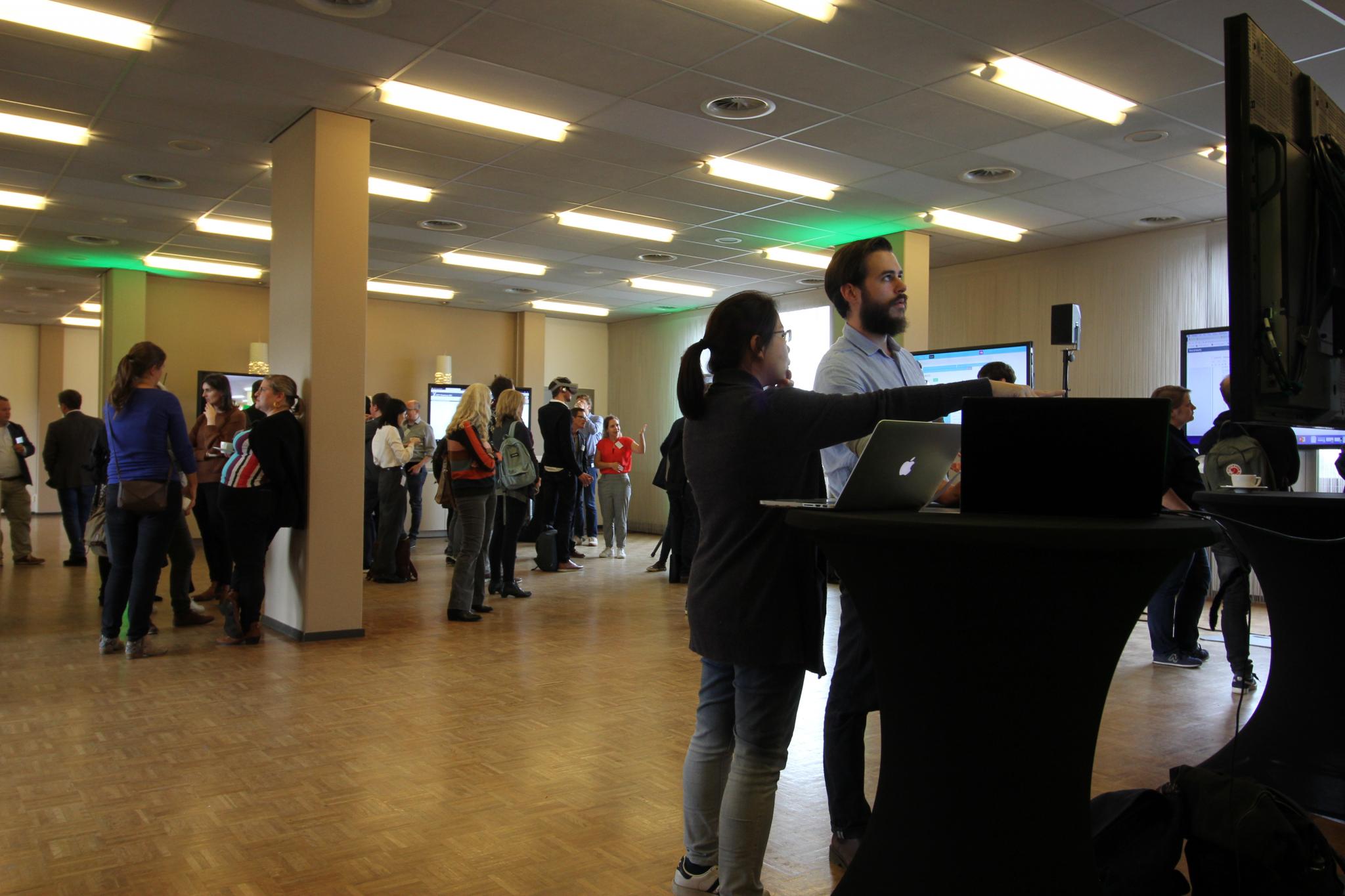 After the break it was time to start with the first round of workshops. Esther Tan, Sambit Praharaj, Haoyu Chen and Yoon Lee hosted a workshop on Multimodal Learning Analytics and shared their experiences on this subject. A simulation was used to demonstrate how multimodal data can help create holistic insights into students' learning and engagement and how MMLA can provide feedback for lecturers as well as students to enhance learning in a small scale collaborative setting.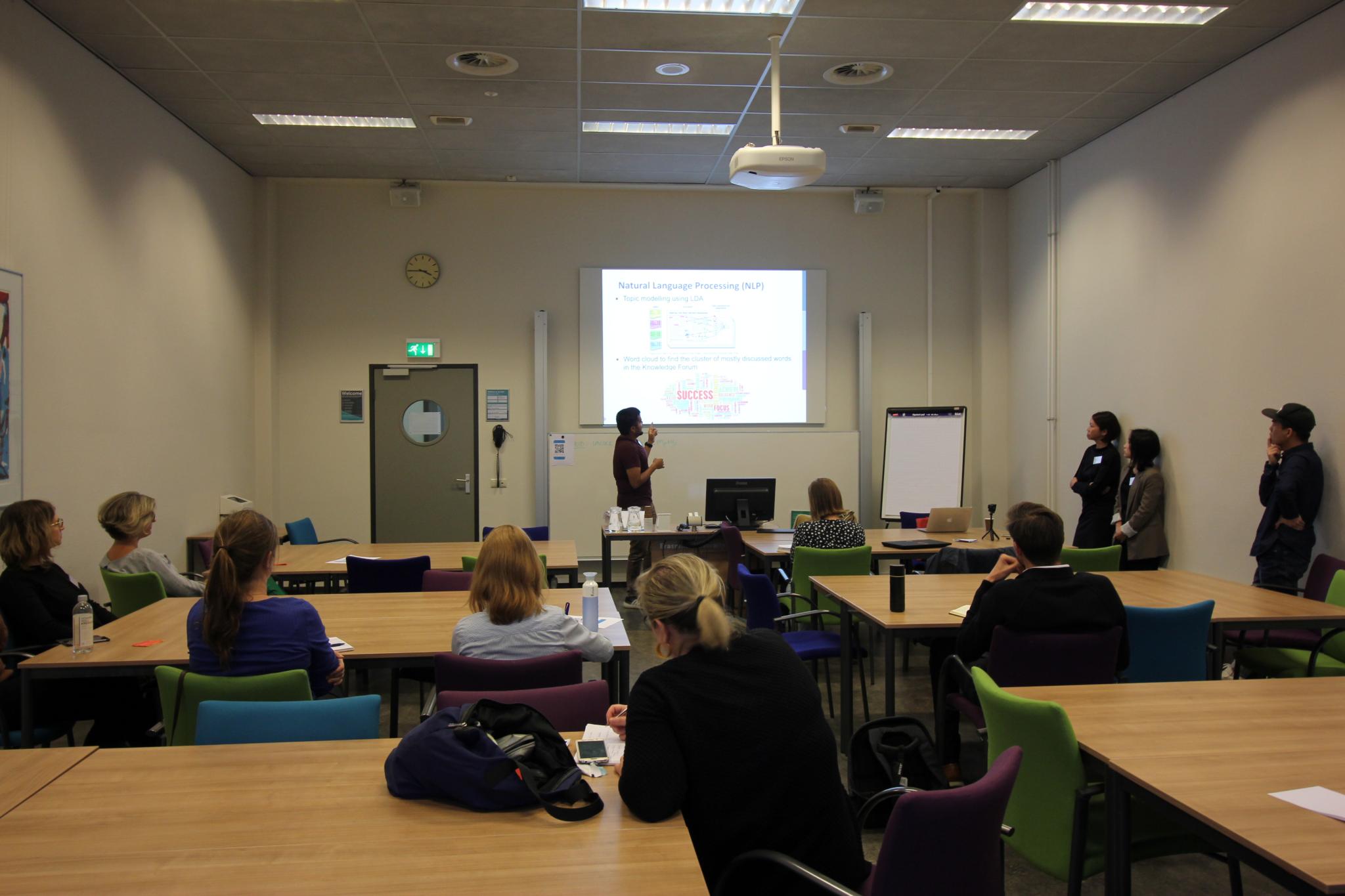 CEL researchers Bibeg Limbu and Nesse van der Meer gave an introduction to Augmented and Virtual Reality. During this session participants were given a broad range of background information about these two new media and their potential applications for education.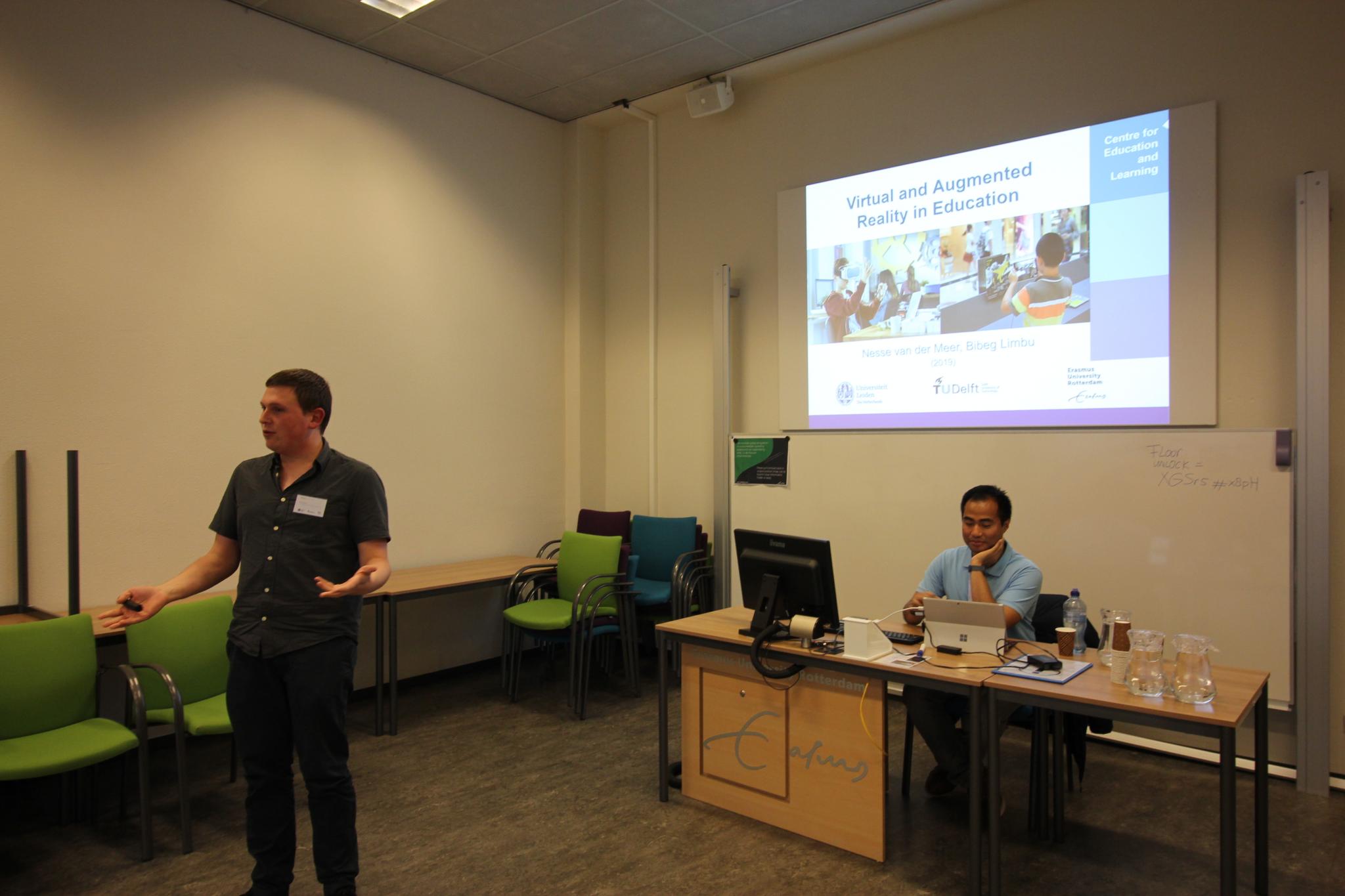 The AR/VR themed session by Carel Jansen from the Centre for Innovation from leiden University  focused on real life cases where the technologies were used in educational settings. This session delved into the various practical applications of the AR and VR technologies and introduced the participants to the various different applications that these techniques have already been used in.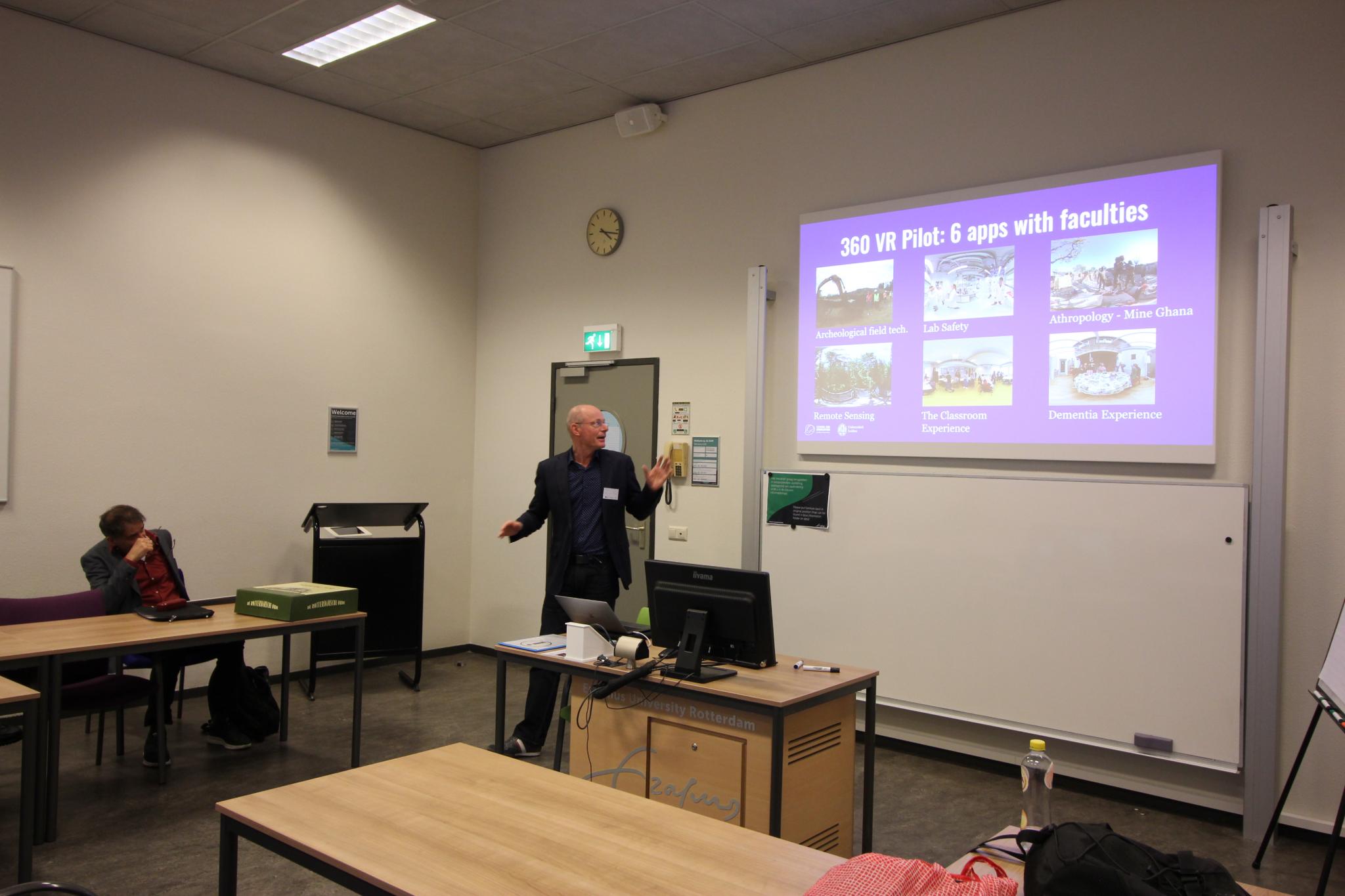 'Self-regulated learning processes in online learning environments' was the session by Martine Baars from the Erasmus University. Self-regulated learning can be difficult for students as many of them do not have the capability to accurately assess their own learning process on their own. During this workshop, participants were challenged to discuss and think about which skills and behaviours are required from students in order for them to be able to regulate and support their own learning processes.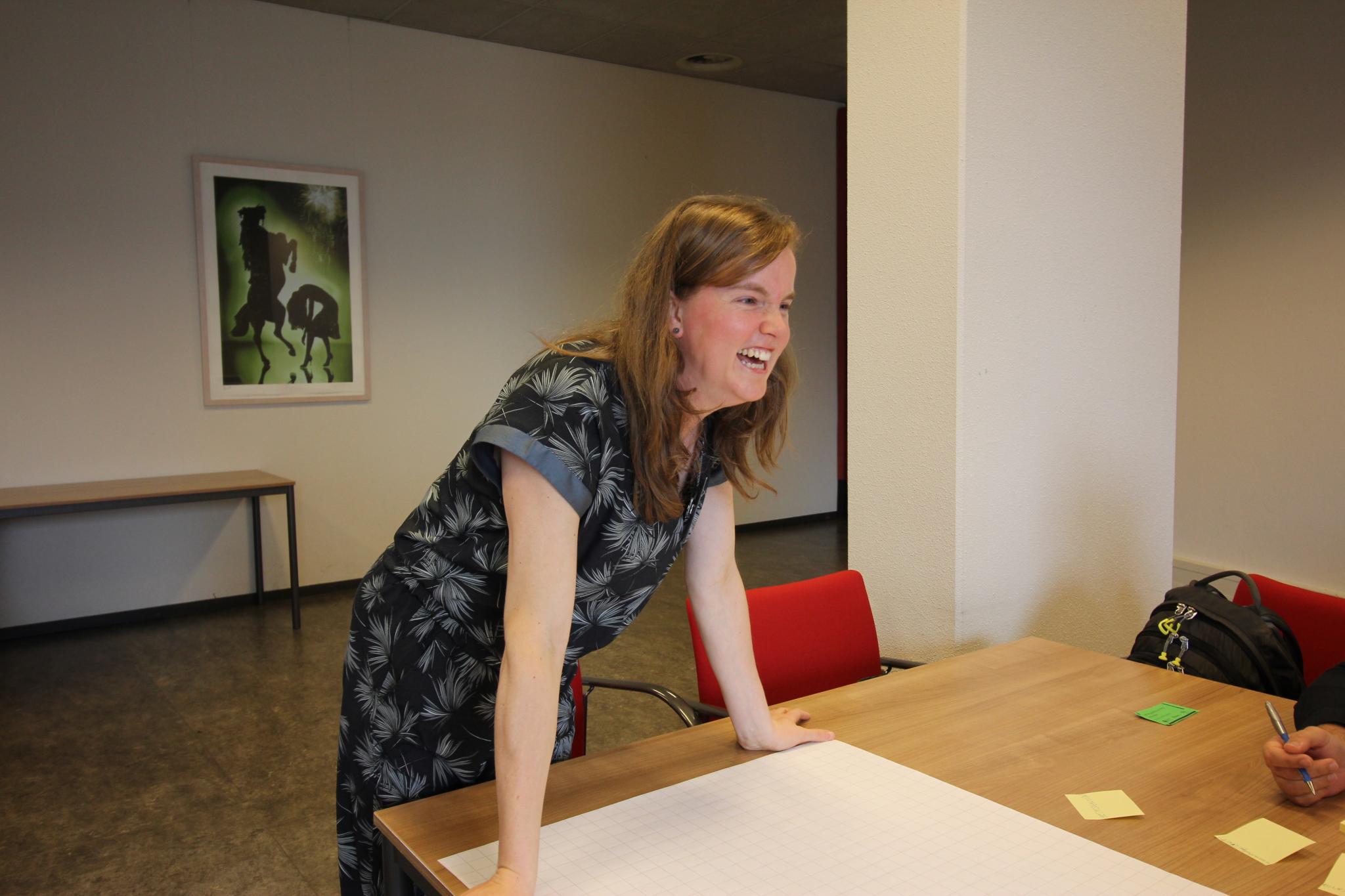 Efthimia Aivaloglou from LIACS (Leiden University) talked about the outcomes of a research project she worked on which looked at teaching young children computer programming, in her session 'Gender differences in early computing education: which girls will become computer scientists?'.  The findings from her research were discussed in light of the underlying question how girls and boys differ as they learn to do programming, and how the gender participation gap can be bridged for the next generation of computer programmers.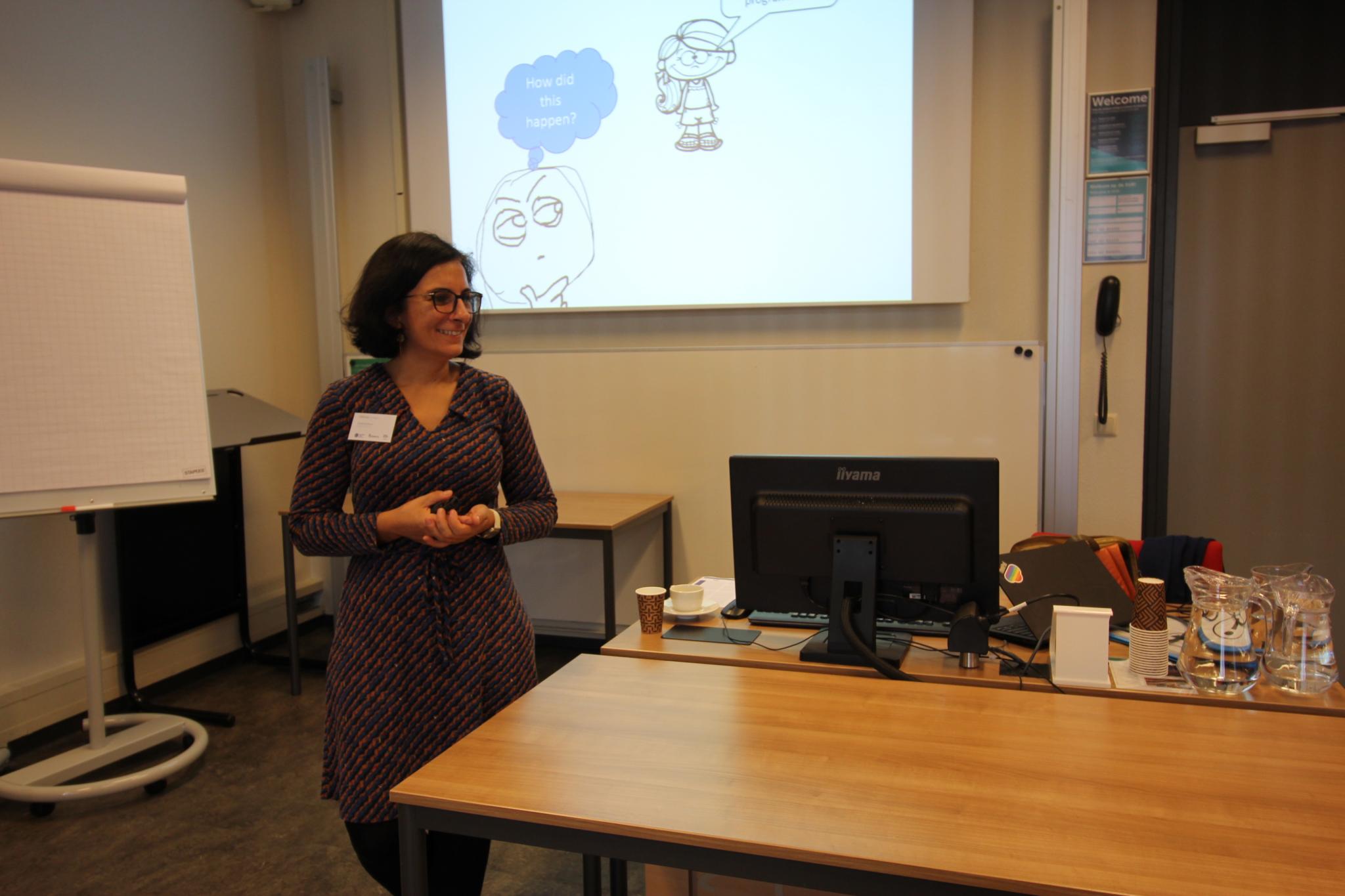 Ioana Jivet challenged her workshop participants to get creative as they designed their own learning analytics dashboards in groups. After a presentation participants were tasked with identifying a problem from their work field, identifying potential actions to solve the problem, to doodle out how these actions could be converted into tools, and to come up with ways to evaluate the effectiveness of the tool they had just designed.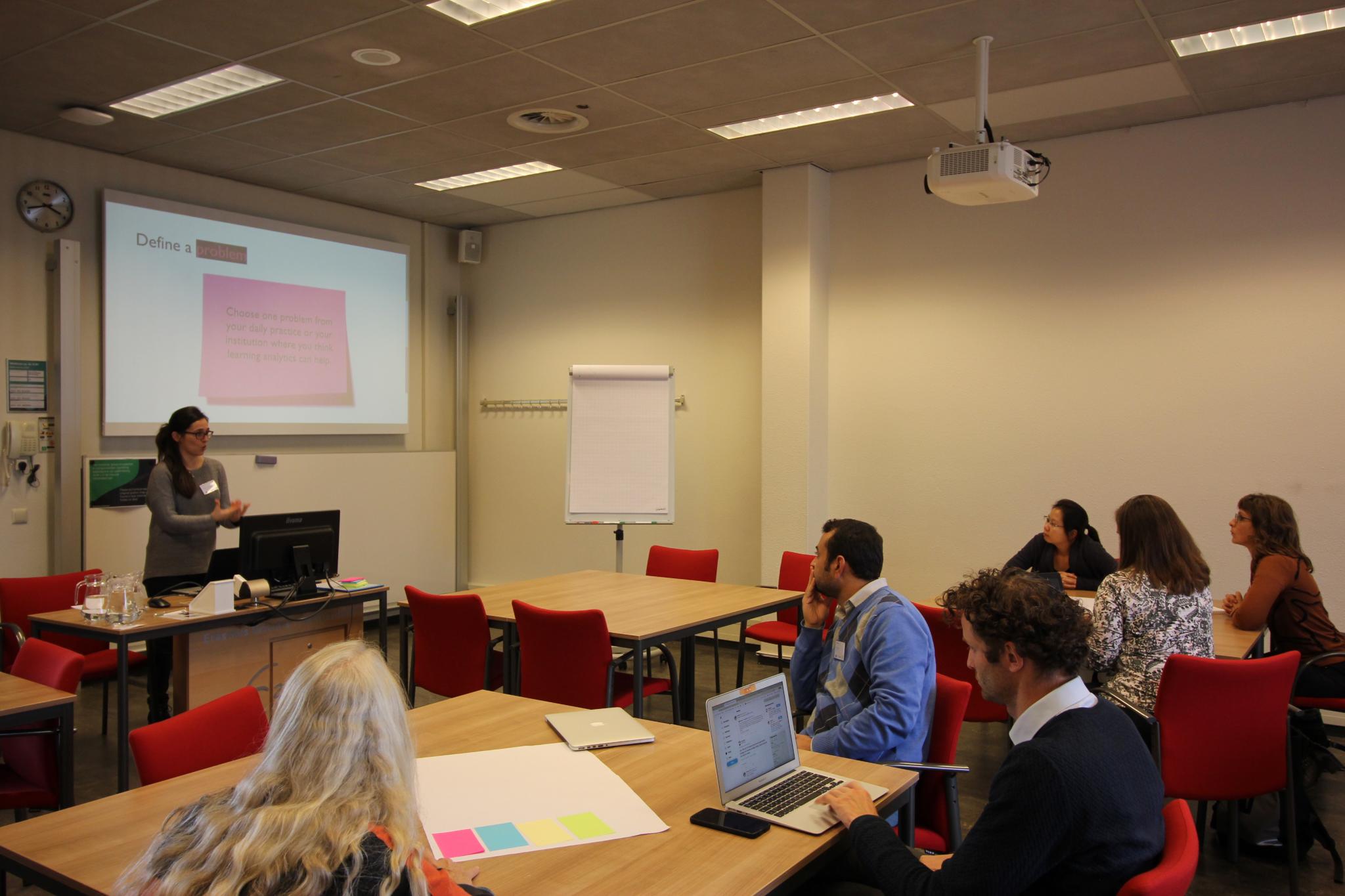 And of course, after all the hard work it was time to end the Annual Meeting of 2019 with a quick "Thank you" and some well-deserved drinks!