Twitter: #amCEL2015
Video report: Access via this link.
The Annual Meeting of the Leiden-Delft-Erasmus Centre for Education and Learning is targeted at university teachers, researchers and educational supportive staff with an interest in innovation in education. You are all invited to this inspiring event that focuses on:
Cutting-Edge Advancements in Education and Learning
In the morning the latest policy developments on higher education in the European Union will be discussed and you will be informed about the latest achievements in research on higher education. After lunch, Dutch Teacher of the Year Alexandru Iosup shows the benefits of Gamification in his courses and you will learn about Immersive Learning from Joost Uitdewilligen, who works at TinQwise a company that focuses on digital learning solutions.
Venue:  Delft University of Technology, Faculty of Architecture and the Built Environment, Berlage Halls

How to get there
Programme
9.30    Registration
10.00  Welcome by Professor Henk Dekker, Scientific Director Centre for Education and Learning

10.15  Policy Keynote: 'Briefing from Brussels' by Julie Anderson
With a review of European policy on higher education on the way and the Dutch presidency of the European Council in the first half of 2016, it is an interesting time to be involved in policy development. What are the opportunities for higher education? Julie will inform you.​
Julie Anderson is policy officer in the Unit Higher Education of the DG Education and Culture of the European Commission.
11.00  Short break
11.15  Academic Keynote: 'State of the Art Research' by Professor Marco Kalz
Prof. Kalz will assess the current state of research on open education and MOOCs an he will draft a research agenda. Several examples from ongoing national and European research projects are discussed and opportunities for joint research will be presented.​
Marco Kalz is Professor for Open Education at the Faculty for Management, Science and Technology and the Welten Institute of the Open University of the Netherlands. He is fellow of the Interuniversity Center for Educational Sciences (ICO) and the Dutch research school information and knowledge systems (SIKS). He is the chair of the special interest group on Technology-Enhanced Assessment (SIG TEA) of the European Association of Technology- Enhanced Learning (EATEL). Over the last 5 years he could secure approx. 2 Mio EUR of research funding for his institution. He is leading several national and European projects on Open Education. His research interest lies on the use of open education, pervasive technologies and formative assessment to support self-directed lifelong learning.​ You can find more information on his website: http://www.marcokalz.de/
12.00  Lunch
13.00  Interactive Session 1: Gamification with Alexandru Iosup
Does gamification help us to enhance university teaching and learning? Alexandru Iosup (Delft University of Technology) was selected Dutch Teacher of the Year 2015 by the ISO Student Organisation. He will show you how he uses gamification in his courses to improve university teaching and learning and report about his and others' research into the effects of gamification on students' participation and achievement.​
Alexandru Iosup is associate professor at the Electrical Engineering, Mathematics and Computer Science Faculty of TU Delft. Alexandru organises workshops for talented students. His research focuses among others on cloud computing and big data as well as online games with large amounts of players.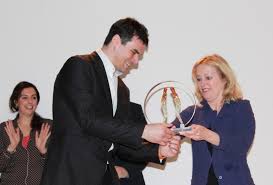 14.00  Break
14.30  Interactive Session 2: Immersive Learning with Joost Uitdewilligen
At TinQwise experienced educational experts, persons renowned for their creativity and innovative programmers work together on learning solutions that touch hearts (EQ) and heads (IQ). Joost will tell us about their work and especially how empathy is employed to create behavioral changes in Immersive Learning.​
Joost is the creative director of a company that develops creative learning solutions for multinationals, ministries, and higher education institutions, which are evidence based thanks to the continuous collaboration with Fred Paas, Professor Educational Psychology of the Erasmus University Rotterdam. More information on TinQwise can be found at their website: http://www.tinqwise.nl/
15.30  Closing by Henk Dekker
16.00  Drinks