On 9 June 2017, the 9th CEL Innovation Room took place, in Erasmus University College, Rotterdam.  Eight Leiden-Delft-Erasmus researchers shared their insights and findings on the latest research on study success in campus and online learning with a variety of participants; followed by lively discussions. 

Photogallery
PART 1 - RESEARCH ON STUDY SUCCESS
Karen Stegers-Jager: Dealing with diversity in medical education
Create a level playing field for a diverse student population
How successful are 'non-traditional' students such as first and second-generation immigrants or first-generation university students in getting into medical school and in completing it? Karen Stegers conducted a study in Erasmus Medical School. Due to differences in selection procedures and curriculum, her results cannot be extrapolated to other Dutch medical schools. 
Getting in
The good news is: first-generation university students are as likely to be selected for Erasmus Medical School as the daughters and sons of university-educated parents. The bad news is that 70% of students from (first or second-generation) Turkish, Moroccan, Surinamese or Antillean descent fail to get selected to Erasmus Medical School, whereas only 50% of the white Dutch applications fail. This disparity is primarily due to poorer performance on cognitive tests, Stegers detected. There were no differences on non-academic criteria such as motivation letter and cv. The explanation for this needs further research. 
Staying in
Once in, students from these ethnic minorities still face many obstacles. They under-perform mainly in the clinical training parts of the curriculum. Based on her research, Stegers concludes that differences in clinical grades are due to subjective grading. Her take-home message: In order to select and retain non-traditional students in the medical education pipeline, medical schools must design assessment strategies and, if necessary, additional targeted support programmes that create a level playing field for a diverse student population. 
Karen Stegers-Jager is an assistant professor at the Institute of Medical Education Research Rotterdam (iMERR). She holds an MSc in Educational Science and Technology. Her PhD thesis focused on the characteristics of and possible interventions for medical students at risk of failure.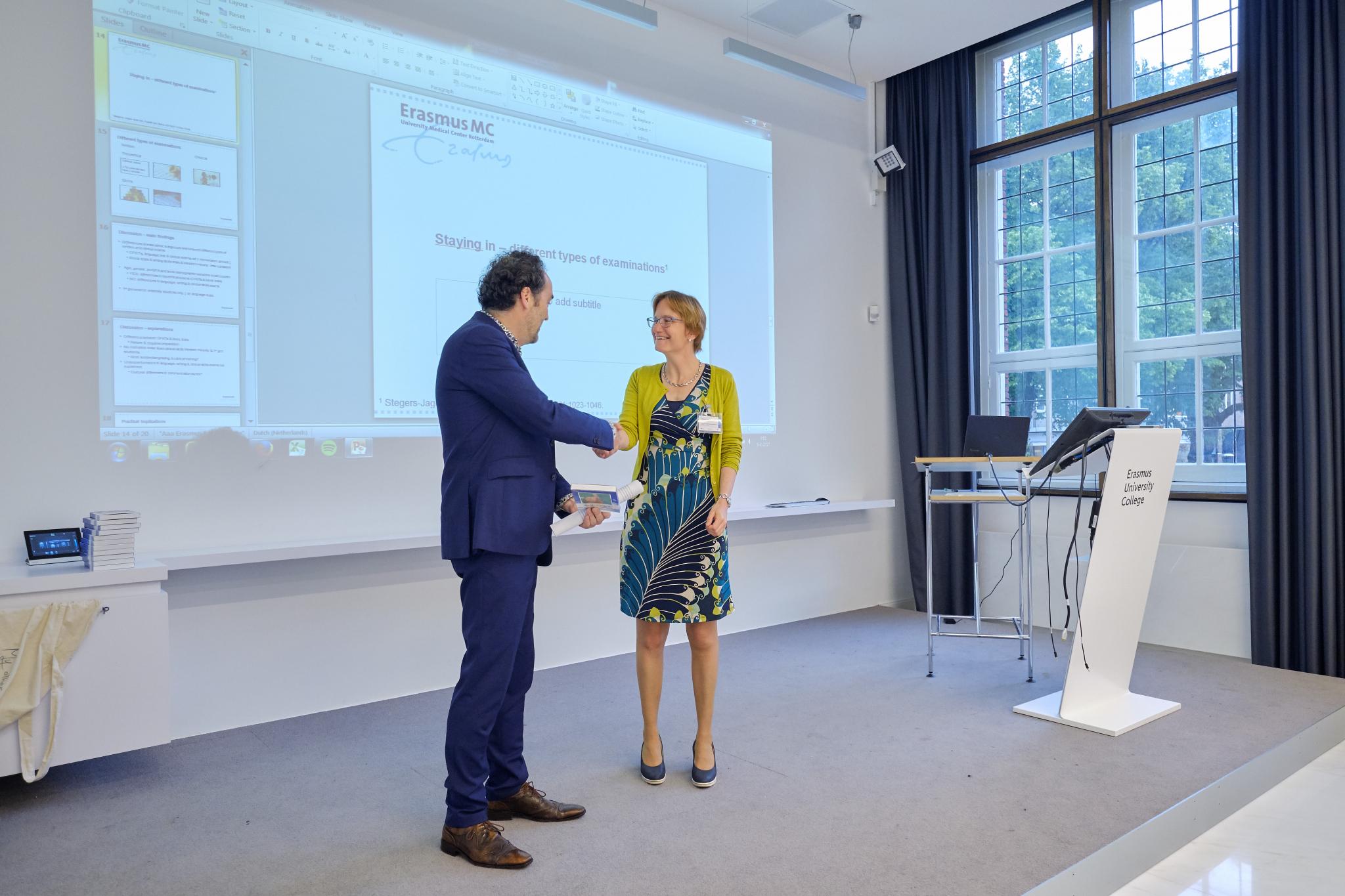 Robert Kickert: The role of the assessment system in the relation between learning and performance
Never underestimate the power of assessment
How does the assessment system influence learning and performance? In 2011, Erasmus University Rotterdam implemented a new assessment system entitled 'Nominaal is Normaal'. Its two components are: 1. to continue their studies, students have to pass the complete first year (60 ECTS) and 2: they may compensate max 2 of 9 tests, which gives them some tactical freedom. Rob Kickert executed one of the research projects the university started to monitor how the new assessment system would affect student learning and performance. He focused on Erasmus Medical School and started out with the knowledge that performance/high grades is largely determined by student behaviour such as self-regulated learning. Research question 1 was: have self-regulated learning, participation and performance improved under the new assessment system? The answer: yes, all three have improved significantly. And research question 2: Has the pattern of relations between self-regulated learning, participation and performance also changed under the new system? The answer to this was no. Student behaviour is related to performance in the same manner as it was before, so higher performance cannot be explained by different relations between student behaviour and performance. Rob Kickert's take-home message: 'Never underestimate the power of assessment'.

Robert Kickert is a PhD candidate at the Department of Pedagogical and Educational Sciences at the Erasmus University Rotterdam. His research focuses on Educational Assessment, Higher Education.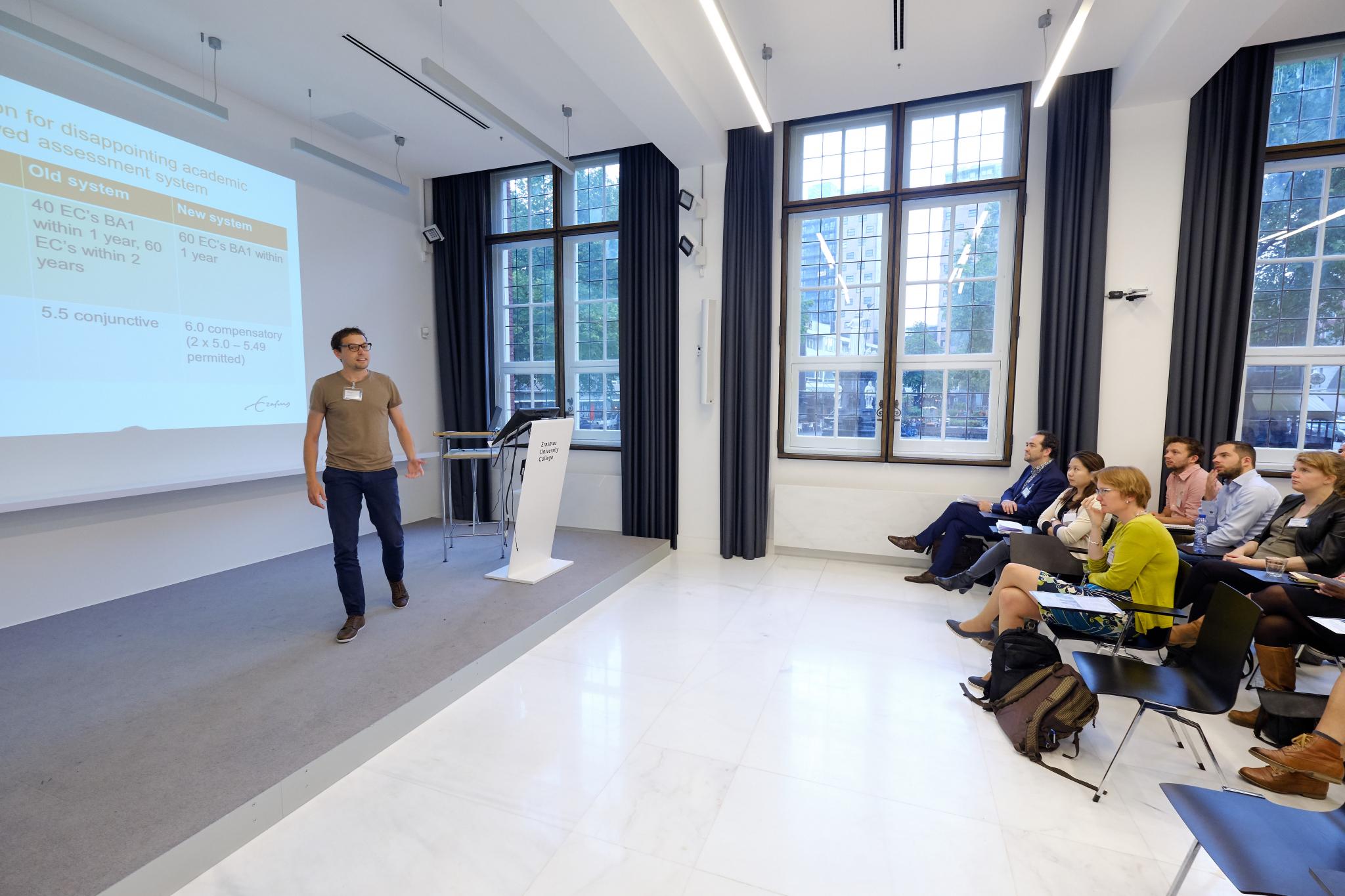 Miranda de Hei: The quest for the holy grail of effective collaborative learning in higher education
 Desiging and doing group work is a complex skill
The benefits of working in groups are well-researched and clear: it helps acquiring specific knowledge and skills and it prepares students for a future profession. However, there are many implementation problems. What to do with free riders, for instance? Teachers often have no clue how to design and manage collaborative learning projects, and students often resist them and claim that their teachers are just either too lazy or too busy to teach. Building on the results of 14 meta-studies and her own experience, Miranda de Hei fully agrees that group work is complex and that a range of well-reasoned choices have to be made in the design. When, for example, is a group of 4 people needed rather than a group of 12? Is a diverse group better than a homogeneous group? With the aim of giving teachers a tool for better-aligned learning activities, she developed an instructional framework for successful group work which has real added value. For her framework she used the ADDIE model: Analyse, Design, Develop, Implement, Evaluate. A caveat: the framework is too complex to be used as a blanks exercise. 

Miranda de Hei works as a member of the research group Sustainable Talent development at The Hague University of applied sciences and she is a member of the research platform Connected Learning. Her PhD thesis is entitled: Collaborative Learning in Higher Education: design, implementation and evaluation of Group Learning Activities. Discussion and Conclusions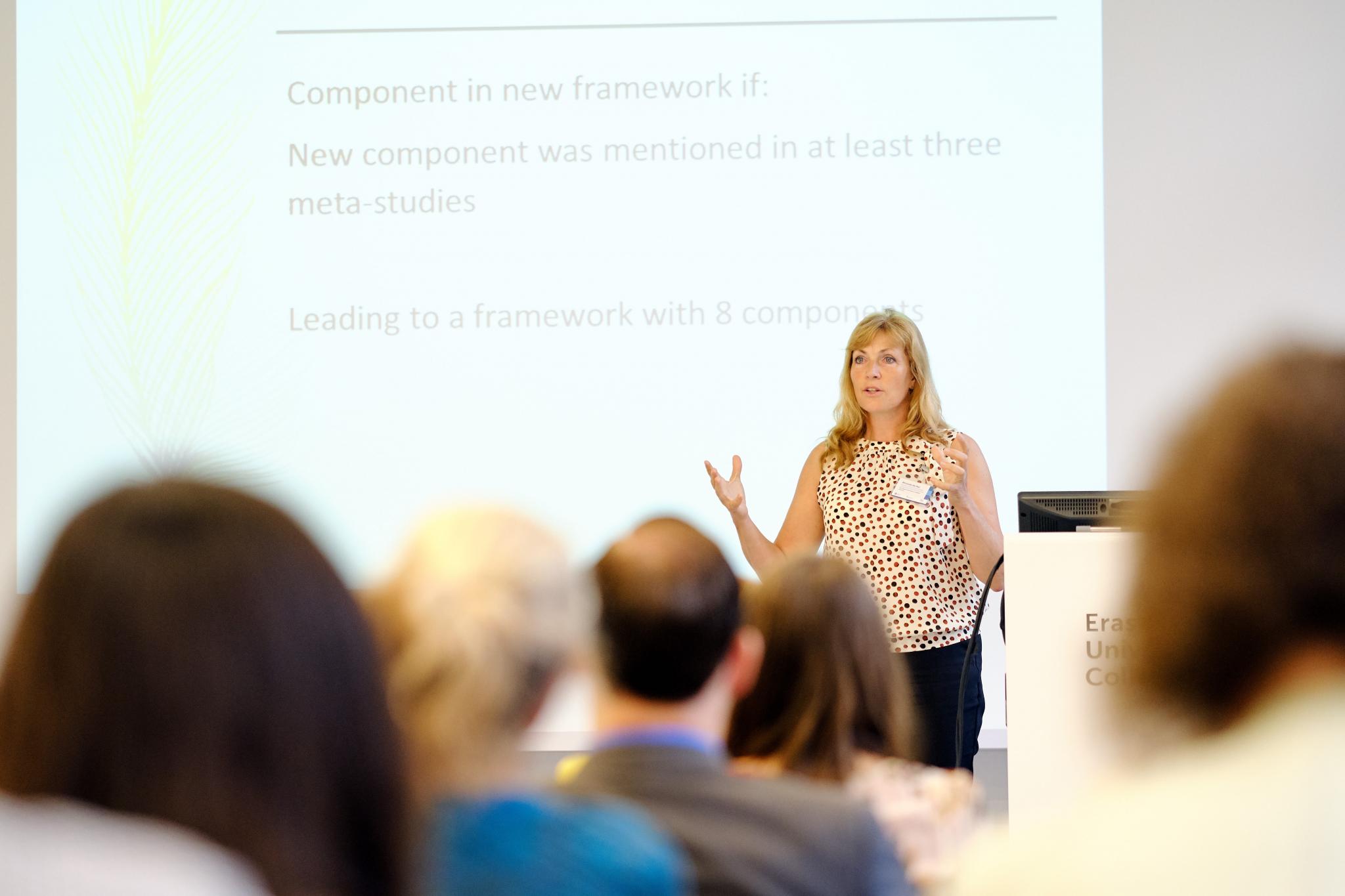 PART 2 - RESEARCH INTO ONLINE AND BLENDED LEARNING
Christopher Lofi: Webcam-based attention tracking: a feasibility study among MOOC learners
Paying attention to what a teacher says is notoriously hard. In a classroom setting, students can pay attention for about 15 minutes, according to teachers. But what about MOOCs? Christoph Lofi is developing a browser-based eye tracker to measure the span of attention in MOOC learners. His ultimate aim is to develop a scalable, privacy-aware technology that automatically tracks learners' attention states in MOOCs. Once inattention is detected, the learner is alerted. Lofi's trained model has now been optimized for features derived from 30-60 second time spans. The next step will be implementing and testing it in a real-time setting.

Christopher Lofi is Assistent Professor at the Web Information Systems group of the Faculty of Engineering, Mathematics and Computer Science, TU Delft. His research focus is on developing new human centered query paradigms for modern information systems and databases. 
Mohammad Khalil: Learning Analytics in MOOCs: a data issues perspective
What if learning analytics goes wrong?
The MOOCs 'hype' started in 2011 in Stanford and in the years 2011-2016, 58 millions of people registered for a MOOC. MOOCs generate an enormous amount of data, and learning analytics connects all these data and makes sense of it. Universities and MOOC platforms use these data with the aim of improving both learning environments and student behaviour. But what if learning analytics goes wrong? Mohammad Khalil approaches learning analytics from a data issues perspective. Issues vary from mistaken predictions, privacy, security, transparency, or accessibility and ownership. Khalil has proposed an approach to some of these issues  by using de-identification techniques but there will always be flaws and there will always be a tension between improving education and such issues as privacy. His caveat: it is important to realise and discuss this and be prepared for future technical, societal and ethical developments and discussions. 

Mohammad Khalil is Postdoctoral researcher at the Centre for Education and Learning. He defended his PhD thesis May 8th at Graz University of Technology.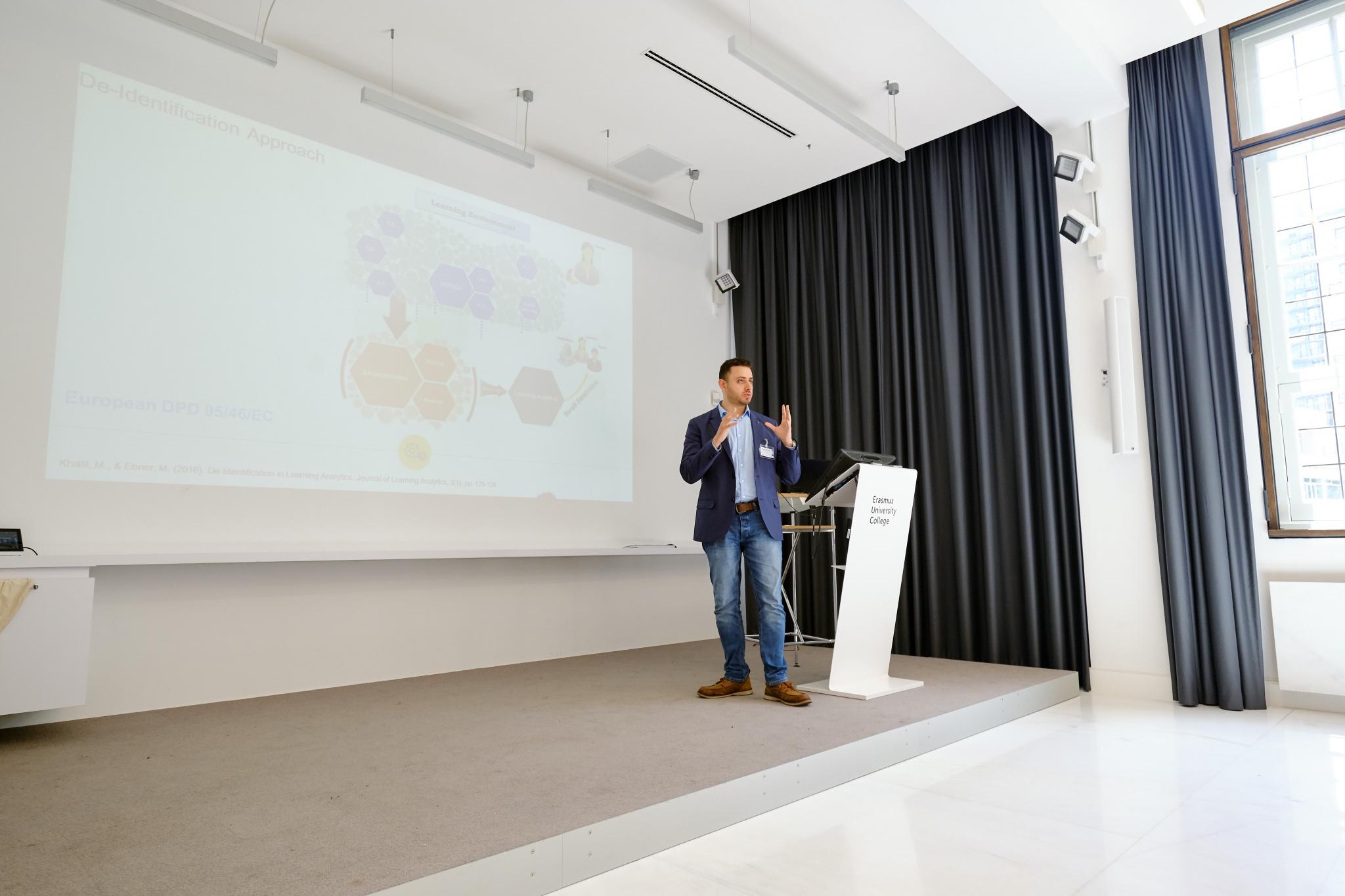 Daniel Davis: Enabling Adaptivity in MOOCs with Personalized Learner Support Systems
Why do so many students drop out of MOOCs?
Daniel Davis is working on web information systems that enable adaptivity to individual learners in MOOCs. Tens of millions of people register for MOOCs but only 3-5% get a certificate and MOOC learners have trouble using self-regulatory learning skills. A well-known empirically-backed technique to actually get something out of a lesson in a traditional classroom setting is retrieval: actively recalling information from memory. How does this translate into MOOCs? In 2016, Davis experimented with a retrieval prompt after each lesson of a TU Delft MOOC and discovered that non-compliance was high: only 22% of the most active learners even clicked on it. 'This irked', says Davis. Now, he is experimenting with retrieval cues scattered through the course (which is the TU Delft Geoscience MOOC), and gaps between the information and the retrieval. He also adapts the cues to the learner's progress in the course and their performance on past quizzes. Moreover, the learner gets immediate feedback. Ultimately, Davis wants the whole interaction to be in one click. 'Up till now, a lot of the work was computational challenges, such as building the cues into the learning environment' Davis says. 
In the discussion, the educational status and aim of a MOOC is tackled:  should a MOOC be seen as the online equivalent of an entire course or rather as book that one reads? 'I like to think of a MOOC as a book curated by a university professor', says Davis.

Daniel Davis is a PhD candidate within the Centre of Education and Learning research programme.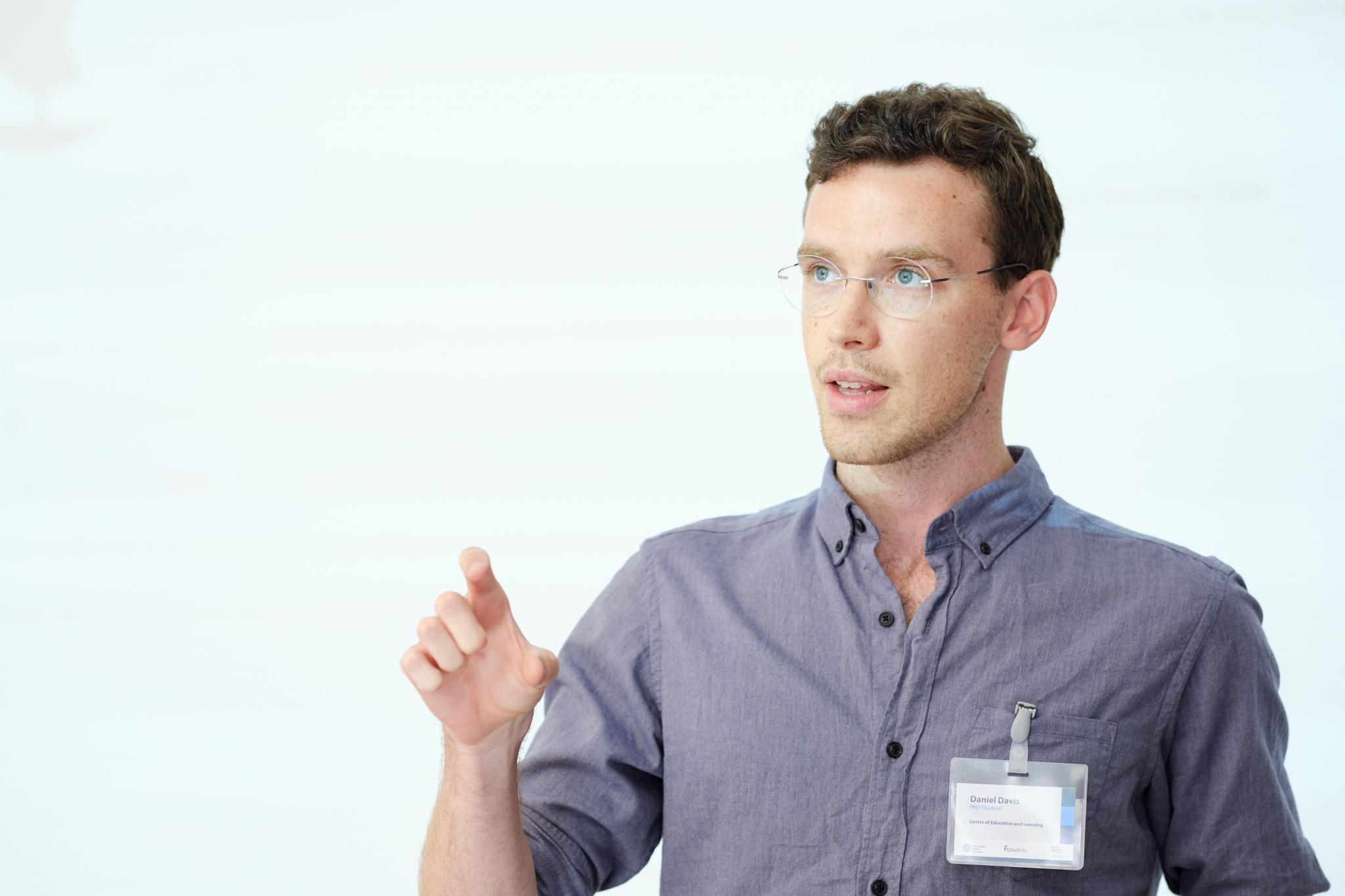 Jacqueline Wong: Student Motivation, SRL and online activity in the Serious Gaming MOOC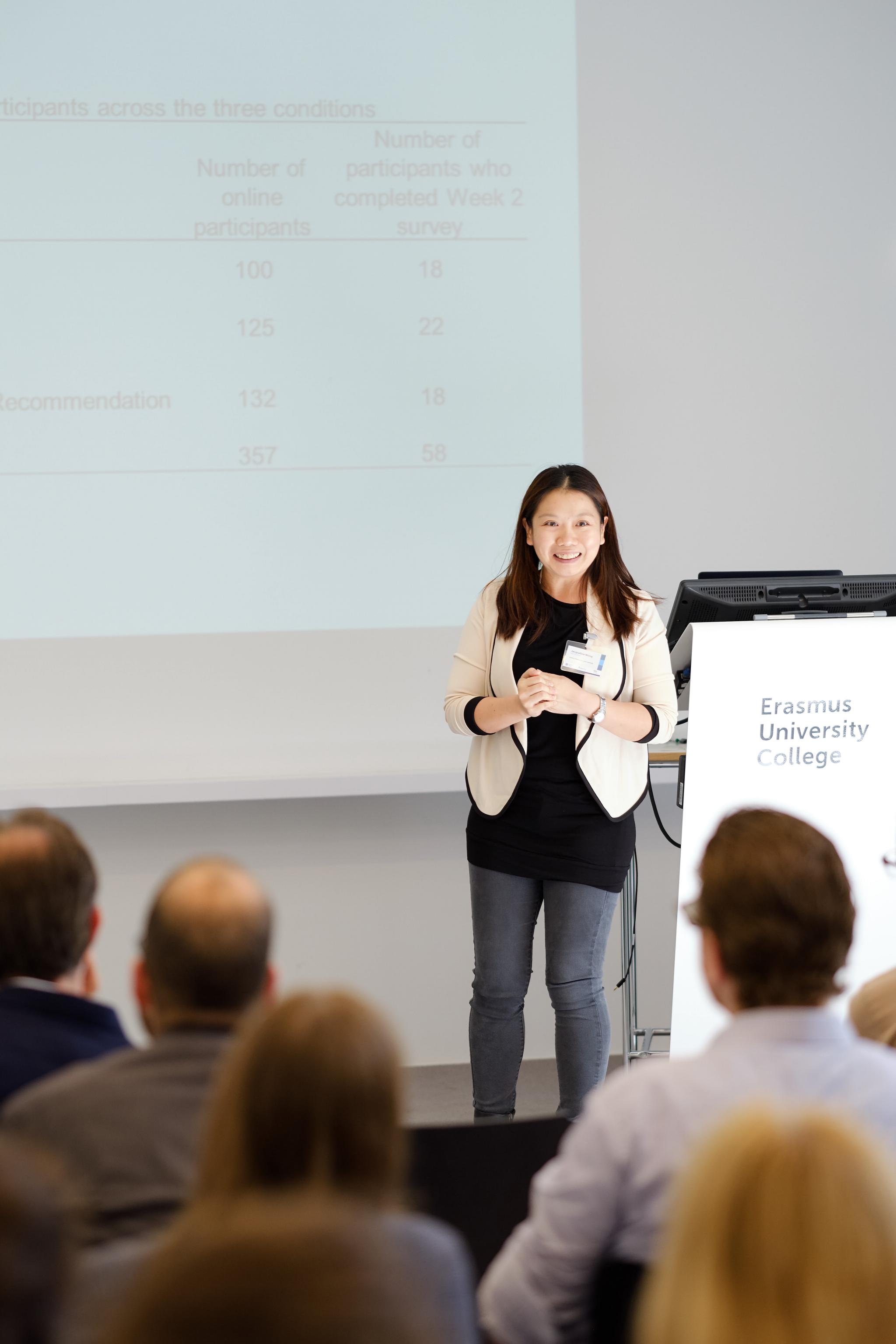 Jacqueline Wong is a PhD candidate within the Centre of Education and Learning research programme. 
Jacqueline's research question focuses on the effect of Self Regulating Learning Strategies on student success in MOOCs. She shares conditions and preliminary findings of  her current studies in three MOOCs: Serious Gaming, Econometrics Methods and Applications and Innovation Management. In the Serious Gaming MOOC the percentage of active participants decreased fast after the first module, but remained practically stable in the rest of the modules, probably as a result of  offering prompting and recommending self-regulated learning strategies to the learners.
Next steps in Jacqueline's study will be completing the data set and examine relationships between motivation, self-regulated learning, online learning behaviours, and student success in MOOCs.
Practical implications of the research will be to understand the impact of students' motivation and self-regulated learning skills and  provide support for students to self-regulate their own learning in MOOCs.
Nynke Bos: Student Success in Blended Learning
Nynke Bos works as an educational researcher at ICLON, Leiden University. Her research interests and expertise concern individual differences of the use of educational technology to improve curriculum development and student success.
Nynke Bos recently defended her PhD thesis on the effectiveness of Blended Learning  PhD thesis Effectiveness of Blended Learning
The aim of her dissertation was to determine which factors either facilitate or hinder effective learning for students while they interact in a hybrid or blended learning environment. These factors could be related to the instructional conditions of the course (external conditions), or based on student characteristics (internal conditions). Implications could be improvement of design of blended learning environments.
She shares her follow up study, in which she related student characteristics to study success. Students who attend lectures (either online or F2F), use other learning resources, learn to the test and dislike peer learning seem to be more successful than students who do not attend lectures, are highly self-efficient and do not use many other learning resources.  
In the Innovation Rooms of the Leiden-Delft-Erasmus Centre for Education and Learning researchers, teachers, teacher trainers, educational designers and policymakers share new insights and practices in the field of higher education teaching and learning. 
CEL Innovation Rooms