Jan Nedermeijer
Sep 2014 Het hbo heeft meer gemotiveerde studenten nodig, maar hoe doen we dat?. Veel hbo-studenten vallen uit in hun eerste jaar. Ongeveer de helft van de uitvallers geeft aan dat een gebrek aan motivatie voor de studie de reden was om te switchen of te stoppen. Sergo van Lieshout en Anouke Bakx houden een pleidooi dat de docent meer gebruik maakt van de mogelijkheden van autonome motivatie. Autonome motivatie brengt extrinsiek en intrinsiek met elkaar in verband. Externe factoren die samenhangen met extrinsieke motivatie kunnen namelijk intrinsieke motivatie faciliteren. Knipsel autonome motivatie.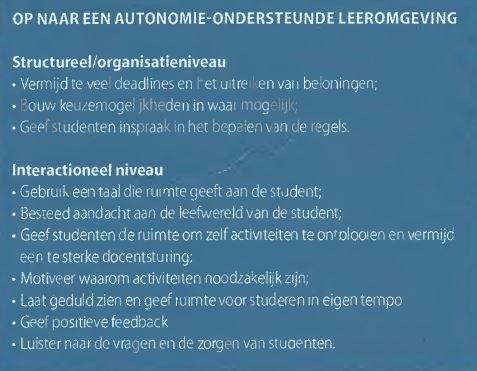 Lees meer in het artikel van Sergo van Lieshout en Anouke Bakx:  "Pedagogische sensitiviteit stimuleert autonome motivatie" uit Onderwijsinnovatie (september 2014).
Of lees meer op de website van het Tijdschrift Onderwijsinnovatie van de Open Universiteit.