COVID has shown us that distance education, in its current form, is far from a pleasurable experience, thereby negatively impacting student performance. In the HoloLearn project, Bibeg Limbu investigates whether holograms can stimulate richer social interactions, bringing back liveliness into distance education.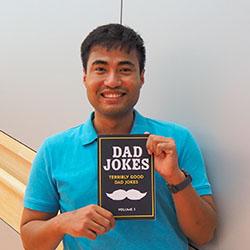 As a child, Bibeg Limbu did not find the Nepalese school system very stimulating as it was mostly about memorisation. It is part of the reason why he left the world's highest educational system, geographically speaking, wandered the world and ultimately ended up in the world's lowest. Here, as a postdoc at the Leiden-Delft-Erasmus Centre for Education and Learning, he has been running several research projects aimed at using technology to help motivate students in acquiring new skills – for example using mixed realities, gamification, or multimodal learning (involving sound, vision, gestures, you name it).
Then, in 2020, COVID struck, and a survey by the TU Delft student council unearthed some major complaints about distance learning. "Basically, students were lacking the sense of connection, and they craved for social interaction with their fellow students and teachers," Bibeg says. "Just sitting behind their screen, looking at slides, the students had lost their motivation. Conventional media, such as Zoom, skype or YouSeeU, simply fail to create the dynamics of a physical classroom. We thought that holograms could be a way to restore that feeling of belonging in the same classroom."
   Holograms could be a way to restore the feeling of belonging in the same classroom
Students in control
The goal of the HoloLearn project is to provide insight into the future of holograms for education at TU Delft. And, having been co-initiated by the Student Council, the idea was to have students involved in every manner possible. Bibeg: "A group of selected EEMCS students directly contribute to the project, supported by the New Media Centre and with me as a supervisor."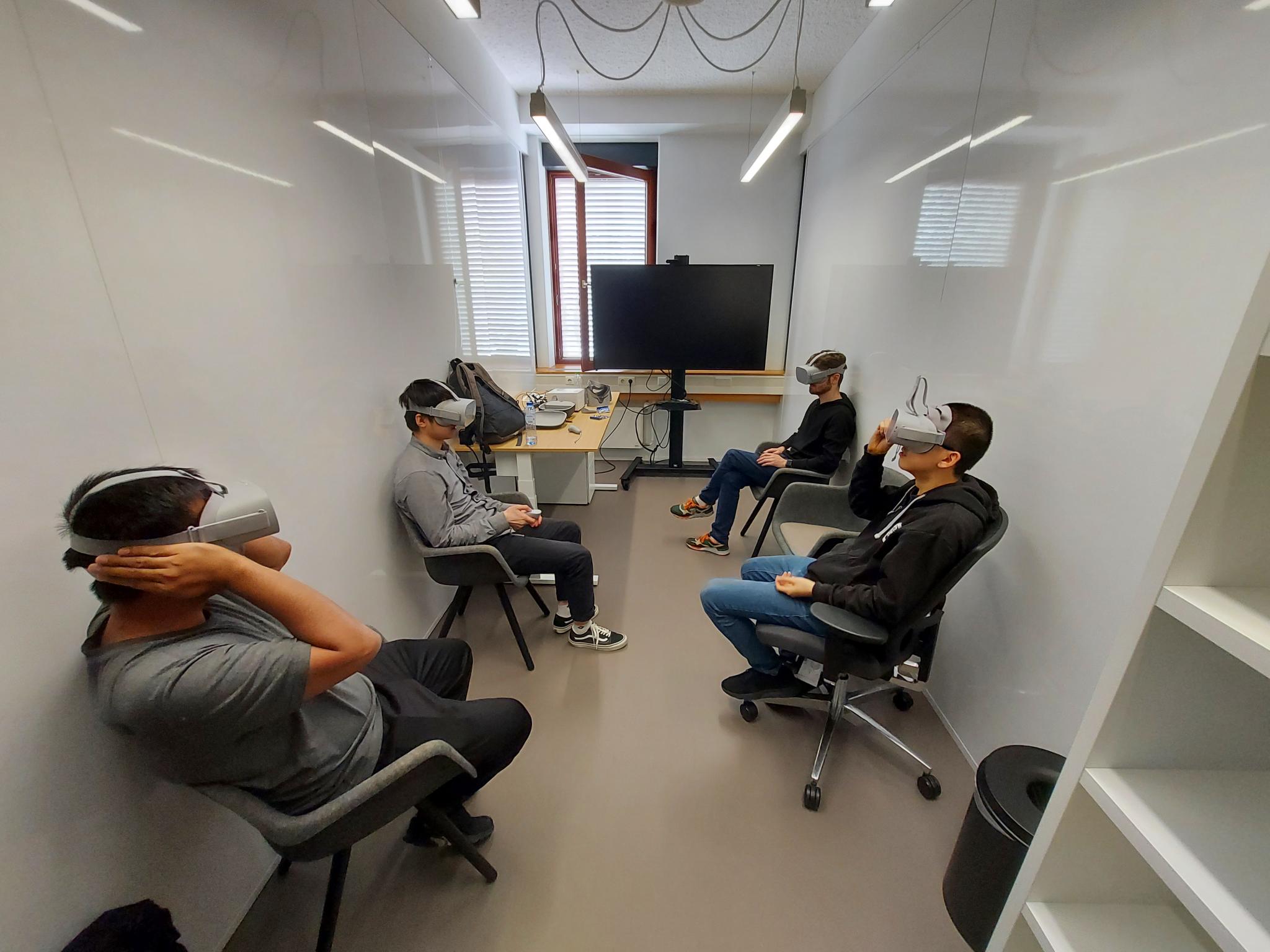 Having started the project mid-COVID, Bibeg hasn't really been able to connect with his fellow researchers at LDE-CEL. But he has certainly enjoyed working with the students, meeting them in the lab every other day or so. "We give them a lot of freedom in their explorations. For me there is always some educational theory involved, but we wanted them to be driven by ideas, not theory."
   It is not about the next pandemic or lockdown, but about developing something that can be integrated into the classroom right now.
Where are you?
Although the concept of holograms in education is not new, practical implementations typically require the teacher to be present in a special studio as well as some very specific hardware to make sure the hologram runs. "In our project, we really focus on accessibility and (future) adaptability of the underlying software," Bibeg says. "We aim to develop something that would not only be useful in another pandemic or lockdown, but that can be integrated in the classroom right now. Think of a teacher being away at a conference, or a student who has fallen ill."
Their ideal solution comes down to a hybrid setting where either of the two major parties – the teacher and (some of) the students – could be co-located or distributed at the same time. "We first want to work towards offering students a variety of options for interacting with a remote teacher, both in the classroom and from home," Bibeg says. "Allowing live interaction between students is future work."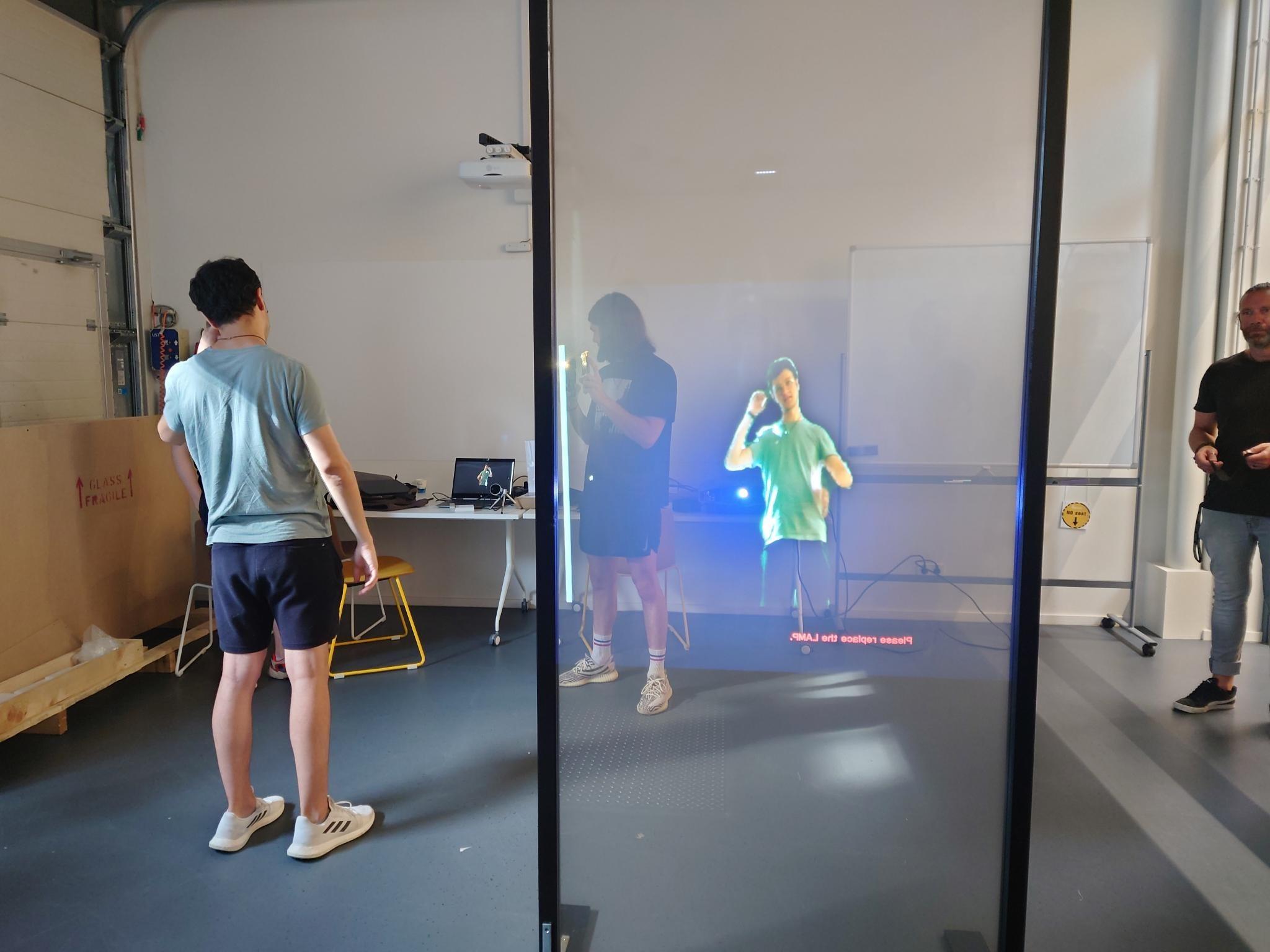 Mixed results
Up till now, the HoloLearn project is mainly an exploratory study. It uses existing technology such as an infrared lidar camera for capturing a 3D image of the teacher, which is then broadcast through various digital channels using a home-programmed backbone. "Having only a limited budget, we knew that our study would be limited before we executed it," Bibeg says. "So, we set out to experience what a good experiment would look like, aiming to apply for more funding based on our findings."
The results so far are mixed, with a telepresence robot (a tablet on wheels) and the HoloDisplay scoring highest when it comes to aesthetic appeal, VR-goggles scoring best in social presence, and Zoom causing the least fatigue (zoom exhaustion). "Perhaps the test subjects were already used to Zoom, while holograms are rather new for them," Bibeg says. "Low quality graphics due to hardware limitations could also have played a role. But we certainly need to increase our understanding of the underlying reasons."
   The HoloLearn project offers us suggestions as to how to build a hybrid educational future.
The sky is the limit
Next up is for the researchers to finetune the technology they developed, especially in terms of teacher orchestration. Right now, Bibeg likens the teacher's experience to a frantic Tom Cat (from Tom and Jerry) trying to singlehandedly play all instruments in an orchestra. "We do not yet have a centralised system that allows a teacher to easily manage all these different platforms, to see questions, answer them and interact," he says. "That is the real outcome of the HoloLearn project; the suggestions as to what is needed to build a hybrid educational future. As far as I am concerned, the sky is the limit, and we have only just opened the window."