Can video's improve online learning? And what does it take to make an effective and interesting video? During the sixth edition of CEL's Innovation Room four speakers shared their experiences, lessons and challenges with video in online learning. 

Thomas Hurkxkens - Audiovisual Director Online Learning Lab (Centre for Innovation) Leiden
Thomas Hurkxkens has a background in journalism and documentaries, and is now responsible for the development of visual online education at Leiden University. 
The Online Learning Lab has established several small, lean and mean studio's spread across Leiden, playing into the decentralized nature of Leiden University. The visual team produces different kinds of educational video's: from 3D animations to teachers explaining the study material on camera. Most video's are shot in a studio, since shooting on location takes a lot of time and effort. 
Making video's is initially quite hard for a lot of teachers. One of the goals of the Online Learning Lab is to get them to a level where they can produce video's themselves. This is why professors get media training and make test video's to get used to being in front of a camera. 
According to Hurkxkens, these are some factors teachers need to take in account when making a video: 
- Storytelling: placing the study material within a compelling story activates a larger part of the brain and improves learning;
- Structure: this will help the students to understand the connection between different concepts;
- Show, don't tell: use images, examples and shoot on location if possible.
Hurkxkens argues that virtual reality is powerful as a immersive way of learning, even though a lot of its effects are still unknown and not everyone owns a virtual reality device. 
In order for universities to keep up with new technology, Hurkxkens recommends flexibility and experimentation. Right now, the Online Learning Lab is experimenting with virtual reality, 360° video and augmented reality. However, Hurkxkens acknowledges these technologies make us face new challenges. For example: how to prevent students from getting distracted?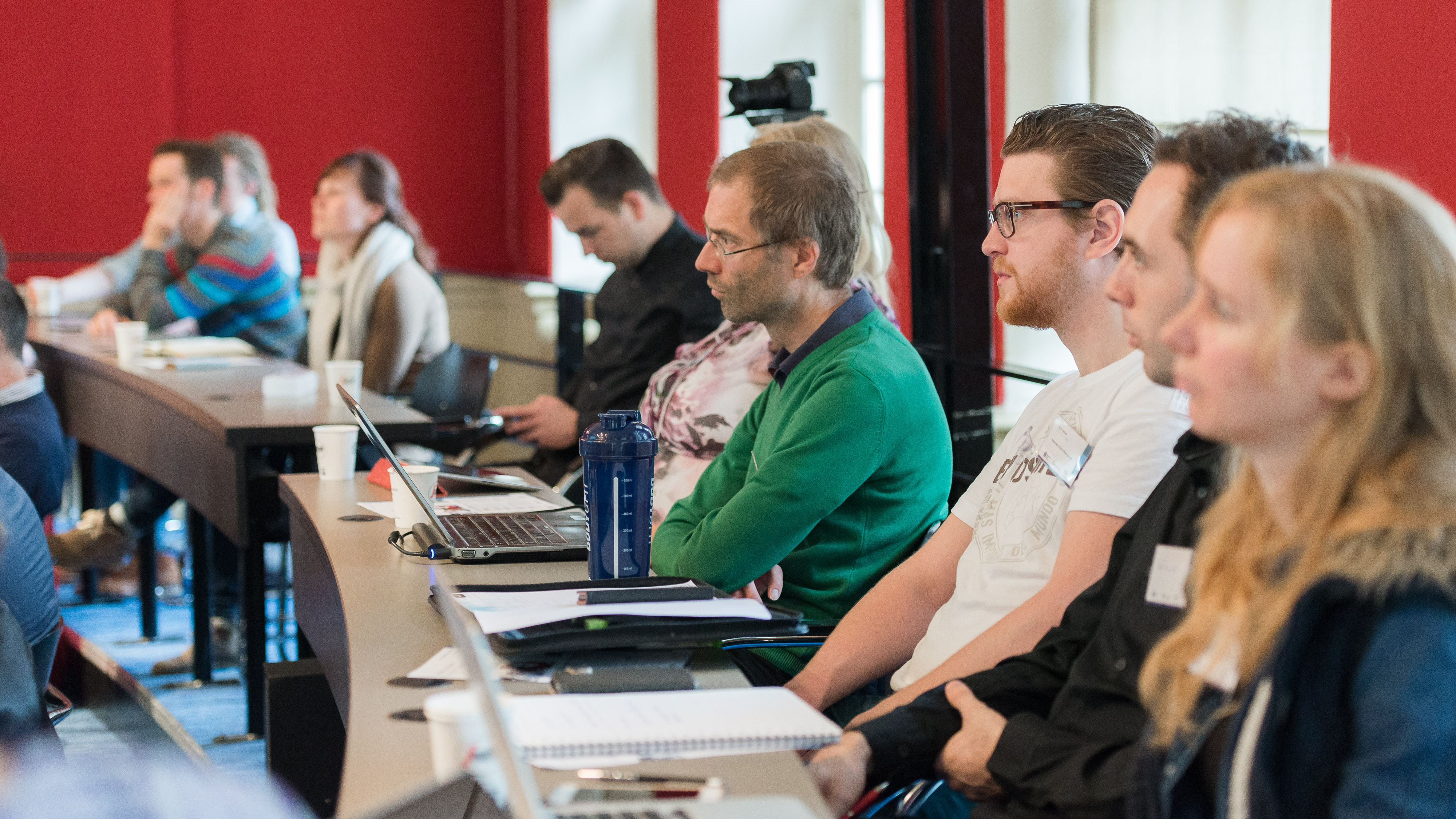 Ruud van Zijl - Project Manager New Media Centre Delft
The New Media Centre (NMC) at TU Delft has been making MOOC's for three years. Project manager Ruud van Zijl explains that the effectiveness of video in MOOC's depends on the X-factor of the teacher in front of the camera. 
NMC has developed an approach to help and assist teachers, discussing several stages and factors of making a video: 
The difference between a classroom and the camera. "The biggest challenge of teaching in front of a camera is no interactivity with the students. We advise teachers to tell the story as if they're teaching to one of their favorite students."
Content. "The way you would explain a concept in class is not necessarily the way you should explain it in a video. Teachers need to refocus and shorten their material to make it suitable for videos."
Scripting. "We always work with scripts, because they help us control the  length of the video and serve as an autocue."
Materials. "We advise teachers to use as little text as possible. No one can read and listen well at the same time."
Training skills. "We prepare the teachers for every aspect of being in front of the camera: presentation, camera skills, speed of talking and calming the nerves." 
Guides. "We've developed guides for step-by-step production of video's, available online."
Workflow. "We try not to do too much post-production, because it takes a lot of time and effort. Everything has to be prepared ahead, so the recording in the studio can be done live." 
According to Van Zijl, the most important characteristics of a video for online learning are enthusiasm, showing examples, choosing one message and keeping it short. 
distracted?
Harrie Boelens - Faculty of Social Sciences Leiden
Harrie Boelens is an assistant professor at the Institute of Psychology at Leiden University and teaches a course on the development of children's thinking. As part of his online lectures, he developed so-called knowledge clips, blending animated visuals with a voice-over to explain a part of the study material for the course. 
With the help of a technician and free software (Screencast-O-Matic), Boelens made several knowledge clips of 7 minutes, based on material that originally took him 15 minutes to explain in class. Thus, the clips helped him save more time for discussion and questions.  
Boelens argues that his knowledge clips may be especially suitable for explaining foundational concepts. He also believes the combination of animation and a voice-over is especially useful when the original content can be easily explained with visuals (pictures, diagrams, etc.). However, he does find it problematic that the use of online lectures seems to have a negative correlation with attendance. "When I showed this particular knowledge clip, only 18 out of 60 students were actually in the room", he says. "I'd rather have all of them in class."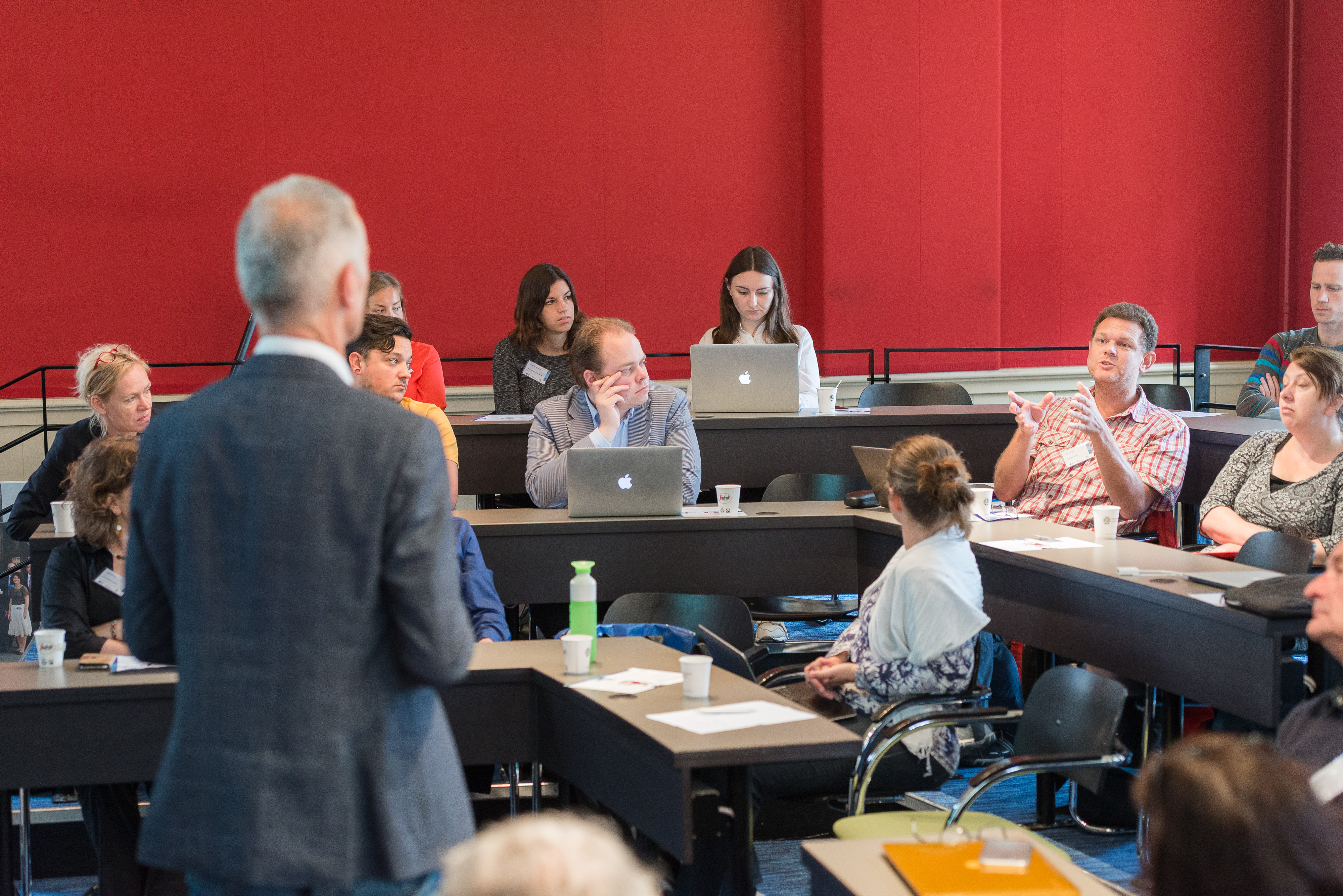 Rob Mudde -Distinguished Professor in Science Education Delft
Rob Mudde teaches Transport Phenomena, a course offered at several engineering studies at TU Delft. In the early 90's, this course had a very low passing rate (40%). Several measures were taken: a bonus system was introduced, the course was moved to a studio class room and a new book on the subject was published. This had a positive effect on the passing rate, but students still struggled with the course and only gained a shallow understanding of the study material in the long run. Additionally, teachers spent increasingly more time preparing and teaching the course. 
Inspired by Eric Mazur en Arno Smets, Mudde and his colleagues decided to introduce a MOOC on Transport Phenomena, including theory video's, DIY's, exercises and glass plate example-exercises. 
As a result, more than 80 percent of the students watched the theory video's and more than 70 percent did the exercises. Moreover, nearly everyone was enthusiastic about this new way of teaching. Unfortunately, the passing rate dropped to 42 percent, the lowest it's been in more than a decade. 
Why? Mudde believes the video's were too good and too condensed. This led to students thinking they understood the concepts, when they only understood the storyline of the video. Mudde also points out that distraction from phones and social media probably had a negative effect on the results. "Students need to concentrate to really understand the concept." 
The low passing rate of his course pointed Mudde to some questions and considerations: 
Did I make it too easy and condensed?
Did we lose pace of the blackboard? 
What's the best way to focus on concepts?
Should students 'go back' to reading and studying books?
His advice to teachers: "Innovate your teaching. It will revitalize you, it's fun and it has the potential to lift up your education. However, stay aware of the challenges these new ways of teaching entail." 
This is an article by Jelena Barisic.